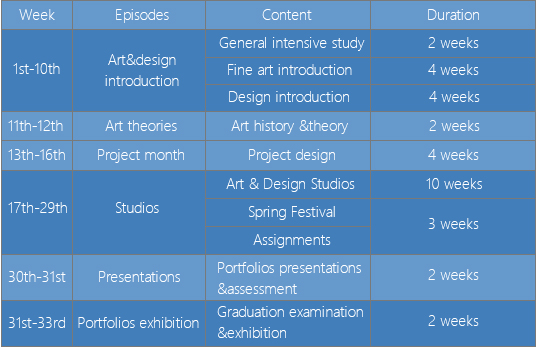 The preparatory education starts in September and ends during the last week of April.
These eight months are divided into short study programs of three to four weeks each. Every program has a specific feature, monitoring and judging.
Every working week counts five lesson days, divided into three parts per day (except Friday):
1.English language, for further description see curriculum English classes.
2.Practical lessons in artistic and creative development and theory (history of design and fine art as well as cultural review lessons)
3.Self-study and execution of assignments
EPISODES OF THE STUDY
The entire study year is divided into six episodes; there are seven judging planned:
Episode No.1
( 01.01 general / 01.02 fine art / 01.03 design) For all participants.
Intermediate judging: (1) September and (2) October (3)November.
Episode No.2
Extra theory lessons / coaching + paper in the English language. For all participants.
Judging (4)
Episode No.3
Project months, for all participants.
Judging (5) the election for the studios: episode no.5.
Episode No.4
(04.01/04.02 spring festival assignment/04.03) Only for selected participants.
Studios for A) Fine Art and B)Design. Spring Festival assignment, Personal Diary. Individual assignment for all participants! Judging(6)
Episode No.5
Final exam
Individual final critique (7) +certification.
Episode No.6
End of April.